So you have started a blog but you are not quite aware of the ways you can use to monetize your blog, right? If you are exploring the ways through which you will be able to monetize your blog then you are at the right place. It doesn't matter if you already have a blog or just started with a new one; making money with your blog is certainly a good idea and it is possible to raise enough money through your blog provided you do the things right. Let us look at the following ways that will guide you to monetize a blog and make money online.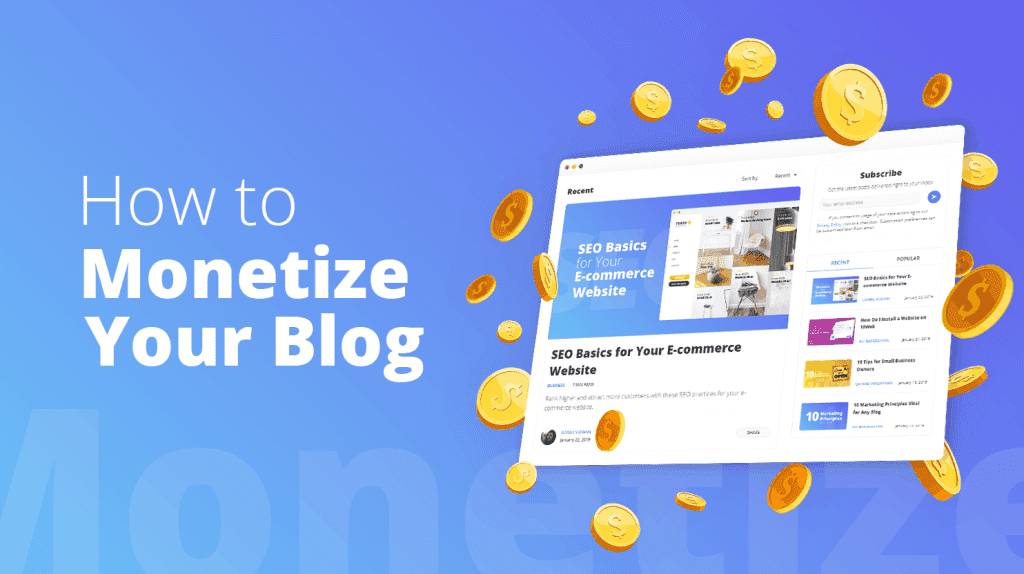 CPC Or CPM Ads For Monetizing Blog
PPC/CPC Ads:
PPC stands for 'Pay Per Click' advertisements in which the advertisers pay for every click on any of their ads displayed on your blog page. CPC (Cost Per Click) ads are usually the banners that appear on the sidebar. In both these ads, you get paid every time the visitor clicks on these ads.
CPM Advertisements:
CPM stands for 'Cost Per 1,000 Impressions'. In this, a fixed amount of money is paid to you depending on the number of people that have viewed these ads on your page.
Audio Ads:
These are very very effective. Do you remember the ads that often appear in the middle while watching Youtube videos? I think you might have got an idea about the kind of ads I am talking about. Similar to those Youtube ads, this video ad begins to play at the very moment any visitor lands on your blog page. These ads appear for only a few seconds and your visitor cannot really do anything about it but wait till it is over. This ultimately helps in a good conversion rate and blogs get paid $5 per visit for this. This is a good way to monetize a blog and make money online. However, the visitors on your page may find it annoying and intrusive.
You should not forget that some of your page's visitors might stay away from your blog if the duration of these audio ads seems to be too long. Apart from audio ads, you can also include podcasts that run similar to the audio ads. This way you can improve the conversion rates and get money through your blog.
Pop Up Advertisements:
Though pop up boxes might seem to irritate (that is the reason why most of the visitors prefer to block these pop-ups), they are still a productive way that helps you to monetize your blog and make money online. You should not run too many adverts through pop-ups or host too many on your blogging site. With a few selected ones, it is always helpful. Through pop up ads, you can effectively get users to opt-in as this will streamline the marketing campaign.
Affiliate Links
Being one of the effective tools for monetizing a blog, affiliate marketing can do wonders for your blog. Affiliate marketing works in the following way:
Suppose there is an advertiser who has a product that he/she is willing to sell. That person (who is willing to sell the product) will give you a certain amount as commission for each sale if a buyer of that particular product happens to come from your blogging site. He/she will provide you an affiliate link that will track your affiliate code. With this, he/she knows if the buyer has come to make a purchase from your blogging site or not. As a blogger.
You have to include that affiliate link granted to you on your blog site. It depends on you how you prefer to include that link. You may either include it in your blog's content or you may use a banner ad for this. You earn a certain amount of money for each purchase made if the buyer clicks on the link provided on your page and makes a purchase.
Sell Different Products
Selling different products (that may be digital or physical) can be another stream of income through your blog. You may sell ebooks, apps, plugins, or any product you wish. But before you include any of the product and pitch it up for selling, you need to keep in mind that you only need to include those products that will prove useful for your readers. Many of the bloggers make a common mistake that they do not listen to their readers and fail to analyze their needs. So avoid doing this and pay attention to your visitors' needs.
Email Marketing
Email marketing is yet another powerful way to monetize your blog and make money online. But for this, first, you will need to build your email list. Utilizing popular email marketing platforms such as Aweber or InfusionSoft will help you to begin with your marketing venture through email. Creating a strong connection with your visitors and readers will be very effective as You will be able to promote blog updates, products, or any services through the course of email marketing.
Create Online Tutorials and Courses
You cannot ignore the fact that online tutorials and courses are the talks of the town. They are becoming more popular with each passing day and you should focus on making effective use of them to monetize blog and make money online. Let us understand it this way. Suppose if you have a blog about cooking, then you can include cooking tutorials and cooking courses or if you are writing a blog about video games, then you can prepare a course on how to play the games to be a better player or something like that.  This way, you can really channelize your blog in making an effective way of generating online income.
Buy best WordPress premium themes at a low price on our website to help you create an amazing blog. Check out our Premium WordPress Blog Theme!
If you're looking for a way to give your WordPress site a new look, check out our WP theme Bundle. We've put together some of the best premium themes available, and we're offering them at a fraction of the cost. You can't go wrong with our WordPress Bundle!