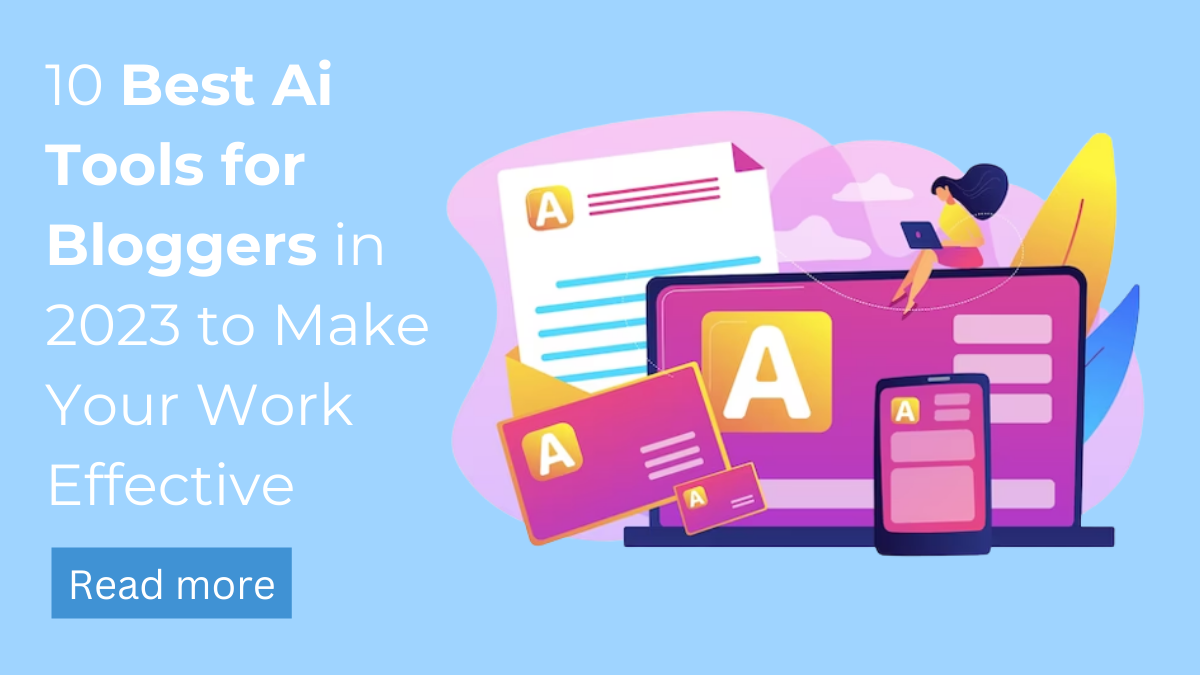 Introduction:
As we approach 2023, the use of artificial intelligence (AI) is a technology that gains popularity on a daily basis. It has the capacity to improve corporate operations, healthcare, and many other areas, which might benefit individuals or entire sectors. Therefore, there is a growing need for AI tools in organizations, and small business owners are eager to apply AI technologies to provide their businesses with a competitive advantage.
The best AI tools for bloggers offer numerous advantages, from improving user engagement to automating activities. There are a lot of interesting AI tools that can assist both individuals and enterprises as 2023 approaches. We'll talk about ten AI technologies in this post that are worthy of being taken into account in 2023, each with special qualities and possible uses. These technologies may help you reach your objectives or open up new possibilities in the field of artificial intelligence, whether your aims are to improve decision-making, automate simple operations, or obtain deeper insights from the data.
10 Best AI Tools For Bloggers
ChatGPT:

We can provide a text-based response in human language using ChatGPT, an artificial intelligence-powered natural language analysis best AI tools for bloggers created by OpenAI. Users can get help from the language model with things like writing emails and essays, as well as coding. This tool functions like a typical human being and was mainly intended to solve the problem with the standard chatbot approaches that we were employing across e-commerce, banking, and other platforms.
Features:
This can reply to the visitor based on text responses and offer details regarding a range of subjects.
It can handle small duties as a virtual assistant.
Examine the language and provide ideas for improvements that will make the content easier to read and understand.
On the basis of the user's input, suggest items like movies, eateries, etc.
used to write code in multiple languages of programming.
ChatGPT offers a friendly and active experience, all while being easy to use and navigate.
It can chat about numerous subjects at once, understand complicated inquiries, and respond to them.
Hostinger AI Website Builder:

The purpose of Hostinger AI Website Builder is to provide the best AI tools for bloggers creating websites that work for a range of objectives. The procedure has been simplified by this all-inclusive solution: upon registering, submit details about your company, and watch in a matter of moments as the AI produces a unique website design. The platform is complete; it handles tasks such as generating intriguing material, selecting relevant images, and putting important design elements together.
The application's user-friendly drag-and-drop editor and built-in AI SEO technologies guarantee your website will look great and score high in searches. This is all available for a very reasonable price. You could try it for free and get free domain registration and hosting for $2.99 or ₹149 per month, with a thirty-day refund guarantee. Likewise free or Premium WordPress Templates also do the work and make designing your website easier.
Feature:
AI Logo Generator: In a matter of minutes, the logo creator generates an expertly designed AI logo for your company.
AI Business Name Generator: Generate business name ideas to reflect your unique brand identity. Enter relevant keywords into the search bar, initially it is free.
AI SEO Tools and AI Writer: Contains numerous SEO features and SEO-optimized templates. Your homepage will be created automatically to get things started; no manual labor is needed. Following that, using our AI tools, you can create alt texts, details, and meta titles that will all help your website rank higher in search results.
E-commerce Features: You get the full range of tools available for online sales. Display upwards of 500 products, handle orders and inventory, assist with payment processing, and more. Make it possible to schedule meetings without difficulty with a few quick clicks.
AI Heatmap: You can comprehend when users engage with your website thanks to this function. It gives users the ability to rearrange the elements of your page depending on user interaction and gaze patterns by visually representing the parts that get the most engagement.
AI DeepBrain:

The greatest AI video creator and cutting-edge video synthesis firm, DeepBrain AI, specializes in producing incredibly lifelike AI humans. With a simple script, businesses can produce breathtaking videos and employ lifelike AI avatars that are capable of speaking more than 80 languages and making organic gestures. Whether you require a news, how-to, marketing, or training video, this design has the perfect one for you. Manually producing videos of excellent quality takes a lot of effort and time. But the DeepBrain artificial intelligence system has made video production much quicker and more efficient.
Features:
AI Avatars: More than 100 fully licensed AI avatars from DeepBrain AI are available to help with video creation. Users may also make personalized avatars for politicians, famous people, spokespersons for brands, and other individuals.
AI Video Generator: It produces AI videos from a script. It converts text to video in five minutes and save eighty percent on time and money.
Conversational AI Humans: Give your online interactions a human touch with AI people that can listen to users and consumers in real time and reply accordingly. Additionally, it allows for actual conversation through integration with large language models and chatbots.
Versatile Text-to-Video Creator: Some of you can create your AI avatars to speak in any tongue by using text-to-speech. Select from a variety of video templates to get started, then edit movies online without difficulty.
The best AI tools for bloggers is DeepBrain AI, which makes it simple for you to make incredible videos. With the yearly plan, all of this is available for just $24 per month, or $30 per month. There's also a free trial available. Try it right now, make a free AI film, and you'll be able to witness the difference for yourselves.
WriteSonic:

Similar to ChatGPT, WriteSonic is a processing language with some additional, potent capabilities. WriteSonic creates responses using the most recent data that is readily available online. It can also create illustrations depending on the description users supply or even on the descriptions we provide. It is available around-the-clock and accessible across a variety of platforms, such as social media, messaging apps, and sites. It is made to be simple to use and easy to navigate.
Features:
Because it is driven by Google Search, you may have real-time conversations with it about subjects that are popular and current events. Whether you just want to talk about current affairs or keep up on the newest celebrity rumors, we have you covered.
The capacity to create digital art with WriteSonic is an additional great feature. You may use this to create beautiful visuals for your blog entries and social media sites. All you'll need to do is describe the type of artwork you want, and it will create an image for you to use.
Personal AI:

Created to help people have more intelligent discussions with prospects, colleagues, and business partners, Personal AI is the best AI tools for bloggers. If your goal is to have a more organic conversation, generate questions and automate answers. In addition to creating personalized messages for your customers, it's possible to programme automated answers to emails and commonly asked queries. It is intended to be easy for users and intuitive, even for those with less technical knowledge. It is accessible using a number of platforms, including social media, email users, and messaging applications, making it simple to stay in contact and active anywhere you are.
Features:
Along with scheduling meetings, checking plans, and booking flights, it has several additional strong characteristics that are going to keep you busy and organized.
Has an assortment of built-in functions, including a calendar, to-do list, and reminders. Having your tasks, times, and dates all in one location is made easier by this. Whether you're managing a hectic schedule or simply making an attempt to complete all of your daily responsibilities,
It can directly sync all of your thoughts and files and establish connections with all of your additional accounts. This means that, from any place, you may access all of your information and files from a single, central location. It can assist you whether they're at home, at work, or on the go.
Synthesia:

With Synthesia, you can effortlessly and quickly make professional-quality videos with an advanced AI video production platform. Users may quickly turn text into a video and create interesting films for a variety of uses, such as advertising, marketing, and instructive and educational materials. its capacity to produce videos with a variety of dialects and languages. It can help you reach more individuals and communicate more effectively, regardless of whether you're wanting to develop content for a worldwide audience or simply need to connect with others who speak a different language. It accepts numerous languages and accents.
Features:
Customers can choose from a collection of seasoned actors' avatars to use in their videos. With their lifelike gestures, facial expressions, and actions, these avatars give the videos a human touch that makes them seem more real and captivating.
the capacity to improve your films with reliable, polished voice overs without spending a lot of cash on equipment. It can produce excellent voice overs in a variety of languages and dialects using cutting-edge speech-to-text technology, giving users the capacity to produce videos that sound clean and expert.
Replika:

Replika is an advanced best AI tools for bloggers that aims to communicate with customers in a way that appears genuine and human. It generates responses uniquely for each discussion using an autoregressive model, in contrast to other chatbots that use programmed responses. The AI may customize its responses according to users' unique requirements and interests as it gains more knowledge about their needs and their personal tastes through user interaction.
Features:
Its goal is to facilitate meaningful, two-way conversations with users that give them the impression that they are having conversations with actual people. Through the utilization of machine instruction and natural language processing, it is able to fully understand the subtleties of human conversation and respond in a truthful and intimate manner.
The AI becomes more informed about customers and their interests as a result of their interactions with it, which enables it to provide responses that are specific to every user's preferences. It can offer tailored answers that seem like they're emanating from a close companion, whether you're talking about some of your favorite leisure activities, giving your ideas on a specific subject, or simply seeking somebody to talk to.
Ai Flair:

Flair is a modern and best AI tools for bloggers design, made to assist companies in producing polished, personalized material in a much shorter amount of time. Flair's elegant, modern appearance makes it simple to use and manage, making it a fantastic choice for creators of all skill levels. Flair may gain insight from your design decisions and suggest enhancements that will enable you to produce even better content in future installments by examining the content that makes up the scene.
Features:
Creating designs that best present what you sell is made simple using Flair's dragging and dropping feature for images of goods into the canvas.
It can easily develop complex designs that integrate multiple goods and design aspects thanks to its variety of scene-building features.
Using machine learning, useful quick suggestions are created to help direct the choices you make about design and raise the standard of your material as a whole. Whether you've been looking for design advice, font recommendations, or color ideas, Flair provides all the resources required for quickly creating lovely, finished content.
HeyDay:

HeyDay is the best AI tools for bloggers that makes use of cutting-edge technology to assist you in remembering significant information you've found online. It easily connects with well-known programmes like Gmail, Slack, and Google Drive and lets users save web pages and other stuff for later use. You won't ever forget important information or pass up vital information again, thanks to this.
Feature:
HeyDay analyzes your browsing history using artificial intelligence algorithms to recommend pages that you might find helpful or relevant to bookmark.
It assists you in keeping track of important moments and due dates by informing you of upcoming events and chores that require your attention.
You may save files and documents straight from renowned programmes like Gmail, Slack, and Google Drive due to this integration.
Chinchilla:

Chinchilla is an innovative machine learning technology that promises to deliver superior natural language processing expertise. With its compute-optimal architecture and 70 billion parameters four times more data than Gopher it has been engineered to be more effective than GPT-3. It also takes a lot fewer processors for fine-tuning, which makes it more affordable and accessible for enterprises.
Features:
Requires a significant decrease in computation for fine-tuning.
outstanding 67.5% accuracy rate that outperforms the Gopher language model. Its bigger size three times that of OpenAI's GPT-3 allows it to produce more accurate as well as varied answers to user inquiries.
Conclusion:
More of these best AI tools for bloggers will become available as time goes on. Without a doubt, these technologies will help both individuals and companies improve efficiency, simplify procedures, and come to better conclusions. We can now quickly and easily analyze massive amounts of data and get previously unattainable insights thanks to artificial intelligence (AI). It's interesting when you think about how AI will develop and affect our lives in the future. In the interim, anyone wishing to increase their efficiency in their personal as well as their professional lives would find these ten AI tools covered here to be immensely beneficial resources.
All of these tools are effective and useful only if your websites performance is good and it is user friendly and it can only be possible if one uses a responsive, SEO friendly, and Premium WordPress Themes. Now you can get These best Premium WordPress themes at a pocket friendly prices from from our store itself. Grab the best fit for your website now!
VW Themes is also the best store to purchase your themes from you can get their WordPress Theme Bundle just at $99 but you just might get lucky because they have a WordPress black Friday deal coming up where you can get the bundle at a heavy discount where you will get the WordPress Theme Bundle between $65 – $80