While deciding to put up a website the most important thing to prefer is the choice of a best WordPress themes. Being the owner of the site, it is pretty natural to get mesmerized by the different theme options. However, you need to pay proper attention to both free and paid themes to get a phenomenal theme for your site. Go through the following basic tips that will aid you in purchasing a WordPress theme for your specific niche.
Find Out What Your Website Needs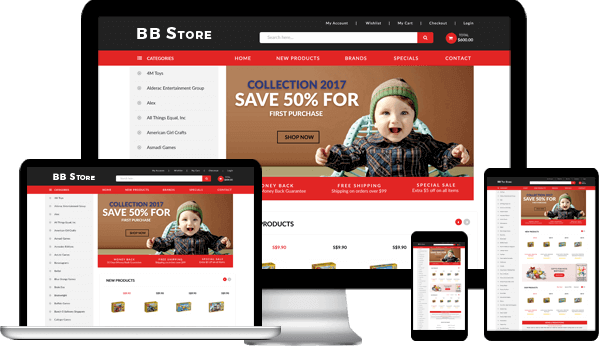 Ecommerce BB Store Theme
The online market is full of good WordPress stuff that covers a multitude of businesses. WordPress themes are enormously available for businesses such as eCommerce, education field, medical, tourism, portfolios, magazines, blogs, etc. So, to prevent yourself from getting into the mess, you need to be clear with the kind of WordPress website you want. Make your ideas clear about your business niche. Before purchasing a WordPress theme, look for the features, functionalities, advantages, and limitations of the theme. Compare different themes then select the one that best suits your business.
New Or Popular Themes
Usually, the new themes are loaded with ample of new features, functionalities, fresh elements, and design. But, there are chances of presence of bugs and errors in them. On the other hand, popular WordPress themes offer lesser bugs and are used by a number of people many times. So, it's up to you which theme to choose out of new and popular ones.
Price Of The Theme
Generally, the free themes offer limited features and functionalities and no theme support. However, you can start with a free theme if it gets you all the features and functionalities that your site requires. And Google is always there to help you out in any sort of difficulty. On the other hand, if you opt WordPress premium themes, the probability to get the quality website increases. Premium themes are always good to have as they offer additional features, full theme support, and updates.
Simplistic Theme Design
People often get taken away by bright and colorful theme design that looks pretty eye-catching. No matter how attractive they are, they may prove out distracting for the visitors of your site. You should try to get a theme that has a simplistic design with responsive features. Aim to create a simple yet attractive and professional design which can bring a number of potential visitors to your site.
Theme Updates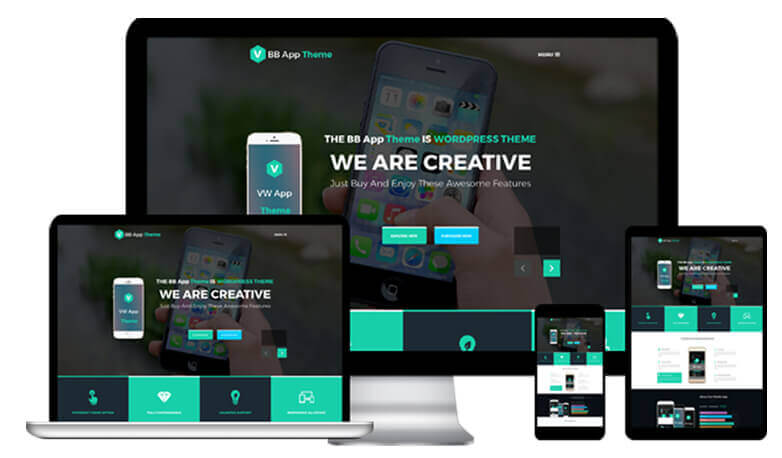 Updated BB Mobile App Theme
Themes that become old, do not support the latest WordPress versions. So, while buying a WordPress theme, you need to check whether the theme gets updated on a regular basis. See whether it was recently updated or not. Approach reliable theme sources such as ThemeShopy or marketplaces to get the best themes.
Fast Loading Theme
What matters a lot in getting huge traffic, superb user experience, top search engine rankings, and improved conversions is the loading speed of your site. Long loading website is likely to lose potential traffic that will indirectly affect your business productivity. Slow sites are ranked lesser on Google and also, its bounce rate increases. So, choose a theme carefully with complete attention to its loading time and lightweight.
Incorporated Visual Content
Pictures and visuals are always impressive that tells the big picture of what you want to convey in a single sight. Images and visual contents are much more effective than simple texts. Before purchasing a WordPress theme, consider the visual content it has and that it appears across the devices of all screen sizes.
Search Engine Optimized WordPress Theme
By default, WordPress is an SEO friendly platform. However, it's not necessary that all the WordPress themes follow entire SEO practices. An SEO friendly theme with clean codes will take your website high on search engines. Also, it'd be great to see that the theme is compatible with well-known SEO plugins that are high-yielding for your website.
Easy To Navigate Website
Your website must have easy navigation such that it gives the required information to the visitors within several mouse clicks. Pick a theme that has responsive features, intuitive design, and easily navigable menus.
Compatible With Multiple Browsers
Commonly people surf websites over different browsers. So, it is a must for your website to be compatible with major web browsers. Thus, the users will find your site across the different browsers. So, when you purchase a WordPress theme, see the aspect of cross-browser compatibility. Check the different elements of the theme before making a purchase.
An Entrance To Social Media
Social media is a great channel to accumulate a greater number of visitors and boost sales. Additionally, it facilitates you to keep in touch with your target audience. So, make sure that the WordPress theme you are interested to purchase, supports the functionality of different social media platforms.
Purchasing a WordPress theme becomes easy with ThemeShopy that offers a well-sorted out range of professional WordPress themes. Our themes will surely hit the ground and boost up sales for you by creating a phenomenal website in almost no time. We'll aid you in getting the best of WordPress themes. Try our themes and see the result for yourself.
You need to have a clear vision regarding the look and functions that your website will have. Accordingly, you have to look for a suitable theme. Of course, you will get all the functionalities that you are looking for only in a premium WordPress themes. But before making a purchase, make sure that it fulfills all your requirements. It should be affordable also. This WP Theme Bundle by Themeshopy has all business-oriented themes. Purchasing the bundle itself will save you a lot of money.