It's known to everyone that WordPress is the best platform for websites. WordPress gives best results with the products. But it has its own perks too. WordPress can be a much complex for people who don't know coding and programming. That's why they people hire someone to do the job for them. But the smarter ones WordPress Themes and save time. There are thousands of companies across the world with promising products. But choosing best WordPress theme is hell of a task. If you make a bad choice, you will have a way of switching WordPress themes. But it's not as easy as changing cloths.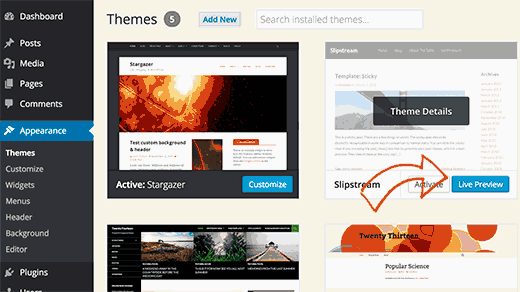 Before we go into the Dos and Don'ts, here's some information about WordPress you must know. WordPress has two hosts, WordPress.com and WordPress.org. With WordPress.com you won't be having complete authority on your website. Here it is easy to create a website but while operating it you will face a lot of difficulties. On WordPress.org you will have complete authority over your website which you can set and design as per your wish. The recommended host is WordPress.org.
There are three main points that a theme should have to be the best choice. The theme should be fast and responsive, the theme should be SEO optimized and technical support for running the website; these are the things that a WordPress Theme must-have. While buying a WordPress Theme you must look for them. But after buying and establishing your website, if you face any complexities then you might need to switch it.
Switching best WordPress themes is a necessary step if the website is being compromised. It involves some steps where you will have to change the whole setting of your website. Changing the website is equal to building a new one without old flaws. So while doing this, you need to remember some things.
Keeping Record
While switching WordPress themes you need to inspect your current website carefully. There might be some things that can help you with it. Keeping a record always helps as it reminds you of the things you have done. That way you can find some easy tricks for switching WP themes. Here you have to check for the codes that you created but forgot their existence. Check if there are any changes with .php files and some other files too. Keep the record of the optimal time and speed at which the current site is running. This will help you in making the other one with updated features.
Backing Up
Whenever we decide to move from one place to other, we make sure to get what we need the most. Get the things for 'just-in-case' scenario. That's what backing up is! While switching WordPress Themes getting a back up of your current website is necessary. In that backup version of your website, you will get all the things you had created initially. In other WordPress theme, you will be able to add those features easily with the backup. It's the easiest way of keeping it updated with regular setting.
RSS Feeds
RSS means Rich Site Summery! It's like the content publisher for the websites. With this every Website sends out the content to have more viewers or subscribers. This way the website keeps their followers updated. Most of the website use Google feed manager to manage their feed. While switching WordPress Themes you will have to make sure to keep the same feed. If you don't consider it as a priority, you could lose number of followers. Having 2 RSS feeds is another way of losing attention. So make sure to transfer your RSS feed carefully.
Turn On Maintenance Mode
Turning the maintenance mode on is like putting a hold on your current site's activities. This allows you the space for switching WordPress Themes. For this install the plugin for maintenance mode and transfer the visitors on temporary page. This will spread the message to your viewers about switching WordPress themes.
Checking Out
While switching WordPress themes you need to check your current website out carefully. You have to know how your current page is working and what to expect from the new WordPress theme. You need to check for the features you had in previous website. The plugins that you had and all the added templates that helped you must be in the new one. While switching WP themes this will help and save a lot of your time.
SEO Assurance
Every WordPress theme has it's own setting for SEO. While switching WP themes you will lose the old one. So you have to make sure that you get updated system for SEO.
A good website design is one of the most important aspects of online success. A well-designed website can help your business attract new customers, improve customer loyalty, and create a more professional image. A poor website design, on the other hand, can hurt your business by making it difficult for customers to find what they're looking for or by giving them a negative impression of your company.
If you're looking for a new WordPress theme for your website, be sure to check out the WP theme bundle deals.