Picking a WordPress theme for blogs is one of the thoughtful decisions for every blogger. Changing a blog theme frequently is not good from the business perspective and user experience. Furthermore, it consumes time to configure the theme while switching over it. If you've also experienced something like this, we'd advise you to be decisive and careful while picking a WordPress theme. Take your time and find out the best theme that goes well with your blog and its purpose.
Your blog's design plays a significant role in spreading your name and giving good user experience. You might have seen many well-known WordPress sites and blogs give extreme consideration to their blog theme. There are ample of WordPress theme providers offering tonnes of choices for a WordPress theme. Some of the themes are free whereas others are paid. While picking a WordPress theme, besides its design and looks, consider other aspects too. Get to know theme upgrade, theme support, and other things. Below in this article, you will get some tips to pick the best theme for your blog.
Select A Theme That Suits Your Blog Type
BB Wedding Theme for wedding websites
Consider the kind of blog you work on. If you work on poetry blog, search for poetry blog themes. If you have a spiritual blog, get spiritual blog theme. Thus, your search will become specific in a direction and you'll come up with a theme that completely goes with your blog type. You'll end up receiving tonnes of appreciation from your blog readers.
The first look always matters the most in creating an impression. Before going through the blog posts, the reader will first observe the theme on which your blog is built. So, you see how important it is to pick a theme that best fits your niche. You should choose a professional theme if you write blogs on technology, online money making, etc. Try a quirky theme if you work on a funny or personal blog. See that the theme colors are pleasing to the eyes.
Easily Customizable Theme
The WordPress theme you choose must have easily customizable options. The online market offers lots of customizable themes that can be easily modified as per your choices. The themes do not even make you dig hands into the coding part. You can play around the customizable theme even though you're not much aware of its codes.
Easy Navigation
There are themes available in multiple layouts, styles, with a number of sections, you need to choose a theme that offers easy navigation. Your blog readers should find your blog easily navigable, easy to subscribe, and should be able to easily get the articles they are interested in. Furthermore, a WordPress theme with easy navigation affects the bounce rate positively.
Useful Features
The best WordPress themes offer advanced features such as inbuilt plugins, SEO options, social media integration, mobile-friendliness, cross-browser compatibility, etc. Both free, as well as WordPress premium themes, support such features. You need to go through the features and get the corresponding theme for your blog.
SEO Options
SEO plays an important role in bringing your site to higher positions on search engines. Themes that have inbuilt SEO options are the must-haves for you. Such themes will help your site rise high and bring visitors to your blog. So, choose a theme with best SEO features.
Theme Support
Choose a theme provider that guarantees to offer theme support. See that the theme regularly gets updated in accordance with the latest versions of WordPress. Also, the theme should be able to support the latest features such as widgets of the updated WordPress version.
Mobile-Friendliness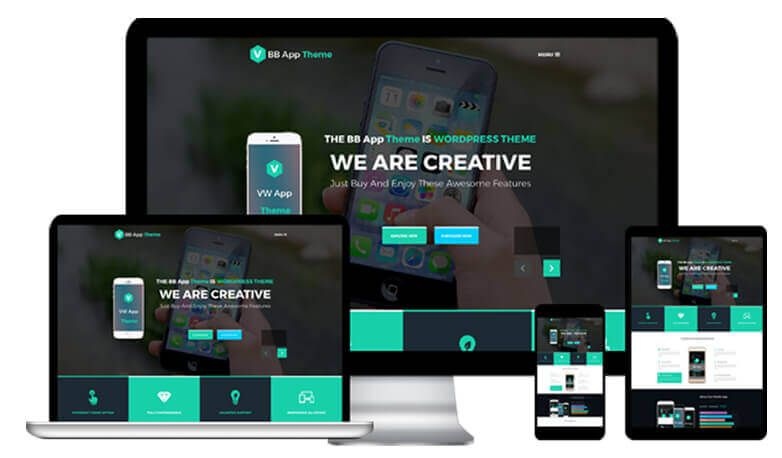 Mobile-friendly BB Store Theme
Do not make a purchase if the theme is not mobile-friendly. Mobile responsiveness ensures that the site appears flawless on devices of different screen sizes. So, you should not compromise on this feature of WordPress theme. Nevertheless, you'll get all modern themes 100% responsive.
Picking a WordPress theme is no more a tough task with ThemeShopy. Here, you will get all unique, multipurpose, and mobile-friendly WordPress themes. All our themes are excellent for the purpose they are developed for. Get our themes and build splendid websites in almost no time.
Every blogger searches for the theme that justifies his area of interest. Getting the right theme will convey the information correctly. Also, the blog looks splendid if you choose the theme wisely. The same thing applies to business websites as well. Themeshopy has come up with a beautiful collection of WordPress themes in the form of a WP Theme Bundle. These themes are excellent for bogging and business websites. They provide easily navigable pages for ease of the visitors.