The success of every WordPress site largely depends on its performance. A website visitor always gets impressed by a fast loading and well-optimized website or blog. Such websites get better search engine rankings which ultimately results in increased web traffic. WordPress theme performance optimization can be improved using certain tips and best practices.
How Can You Improve Your Website's Performance?
For creating incredible websites, WordPress serves to be the most powerful cms. Naturally, being a giant platform, it is bloated with ample of features, and elements. A complex theme that is loaded with a multitude of stylesheets and scripts, it will affect the loading speed of your site for sure. Thus, performance issues will arise on your site which will negatively impact the user experience.
Improve WordPress Theme Performance Optimization
WordPress is a popular content management system (CMS) that powers millions of websites. While it's a great platform with many features and options, it can also be resource-intensive, particularly when it comes to generating pages and posts. In this article, we'll take a look at some ways to optimize your WordPress theme for performance, so you can deliver a smooth and fast user experience to your visitors.If you're a WordPress site owner, then you know that how fast your website loads is an important factor in keeping your visitors happy. Nobody wants to wait around for your pages to load, especially when there are plenty of other sites to choose from. In this post, we'll share some tips on how to optimize the performance of your WordPress premium themes so that your pages load as quickly as possible.
Better WordPress Theme Performance Optimization
We can help. Our team of experts has extensive experience in optimizing WordPress themes for performance. We'll work with you to identify and fix any performance issues, so you can get the most out of your website.
BB Ecommerce Store – SEO Optimized Theme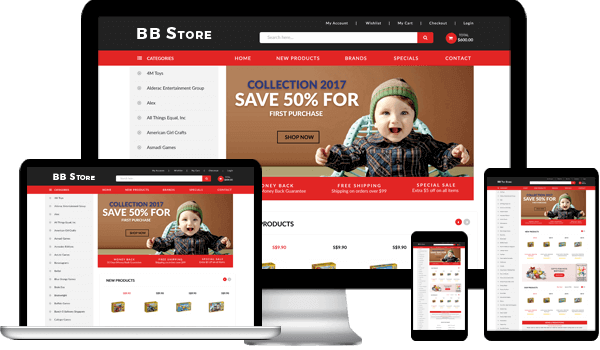 We've coded our BB Ecommerce Store theme taking into consideration all the SEO practices. All the codes and the structure of our theme is completely optimized, thus there will not be any issue regarding the performance. We have only inserted the necessary resources and used fewer essential files so as to make the theme lightweight. Thus, our theme has scored good figures in a number of speed checkers.
Measure The Performance Of Your Site
Before beginning the optimization process, you have to check the performance of your site. Thus, you will come to know what actually is affecting the loading speed of your site. You can measure your website's performance using lots of tools such as GTmetrix and Google PageSpeed. Such tools only provide the standardized suggestions regarding the speed of a website.
What Are The Factors Affecting Your Website's Performance?
While working on a slow site, we're usually more prone towards immediately contacting the theme provider so as to raise a complaint regarding the slow loading website. However, most of the times this is a wrong assumption that all that happens to your site is because of the theme it is built upon. Apart from the theme, there are many other factors that decide the performance of your site. The factors could be the hosting environment, WordPress plugins, and advertisements. Let's talk about these factors –
WordPress Theme
It's the WordPress theme that has the responsibility of showing the content in an appealing manner. The layout and styling of your WordPress website come from the WordPress theme. A best WordPress themes with poor codes negatively affects your website's performance. So, you need to select a properly optimized WordPress theme that will improve your site's performance.
Hosting
Hosting plays an important role in WordPress theme performance optimization. Though you may have a top class optimized theme, if it's being handled by poor hosting, your website won't be performing well. Choose reliable hosting plans based on the kind of website you are running.
WordPress Plugins
The plugins that you install will have third-party codes and to make them work properly, extra resources are required. Oftentimes, plugins are responsible for loading extra scripts and stylesheets on your WordPress website. This leads to increased HTTP requests and database. All this impacts the loading speed of your website. So, you should see that you are using only the limited necessary plugins and not a hoard of them.
Ads
Advertisements also affect the page load time. There may be some popups or ads from 3rd parties that reduces the performance of your site. So, approach reliable advertisers and don't put too many ads on your website.
Use Tools For Analyzing Website Performance
There are many tools available to measure the performance of your website. All you need to do is copy and paste the URL of your site in the provided space on those tools and run them. It will give you a detailed report on how your website is performing.
Remove Unwanted WordPress Plugins
It is seen that there are many sites with a number of installed plugins that does the same task. So, such plugins are simply unnecessary clutter that needs to be removed. With ample of unwanted plugins, the site becomes bulky and difficult to manage. All this ends up on a slow website. It's a fact that usually, the installed plugins adds up third-party codes, scripts, and extra files to your site. Thus, it deteriorates the performance of your website. So, remove unnecessary plugins and only keep those that you really need.
ThemeShopy Offers Easy WordPress Theme Performance Optimization
This article covered some of the ways to improve WordPress website performance with regards to its usability and load speed. And WordPress Theme performance optimization can be achieved by using clean, secure, and optimized WordPress theme. The themes at ThemeShopy are well optimized and are strong enough to improve business productivity by building great websites. So, take advantage of our skillfully built themes and make success in your business.
The themes that deliver the best performance to the users are always appreciated. For seamless performance, the theme needs to be optimized for various factors. Some of these are SEO and speed. Fast loading pages are always beneficial as they keep the users engaged and their interest alive.  We present a WP Theme Bundle in which, every single theme is designed and optimized to give the best performance. Several SEO practices are inculcated so as to fetch the best ranks for your website in the web searches.