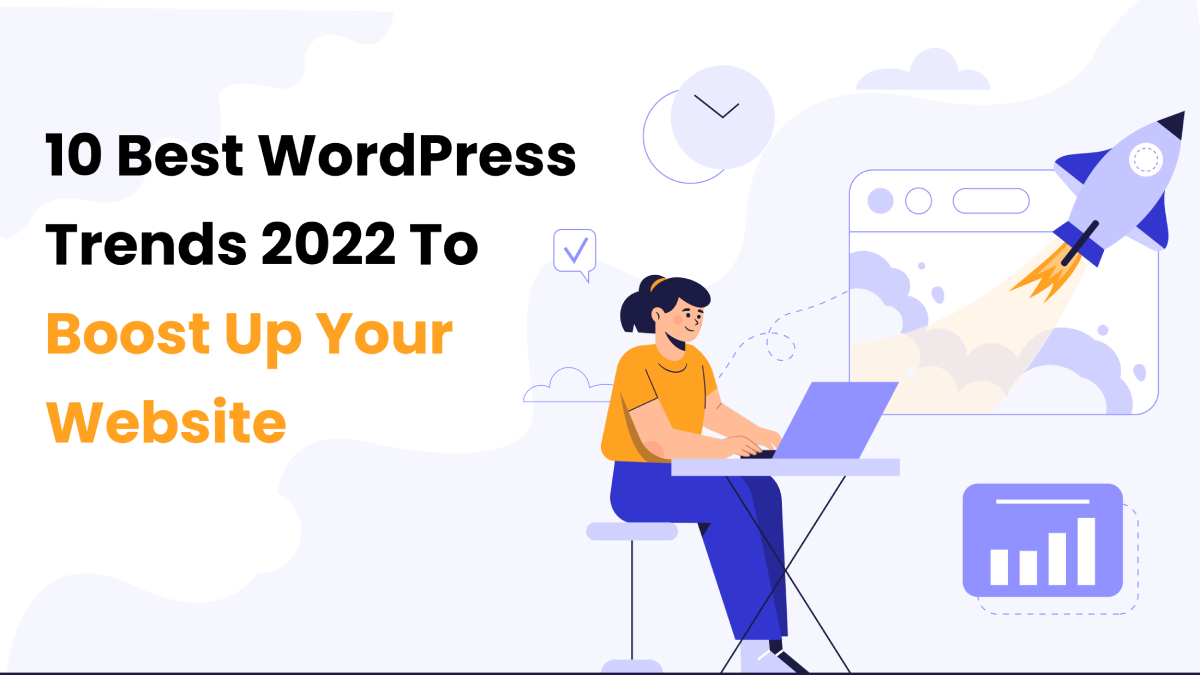 Creating a WordPress website is a most challenging task if not done properly and wisely. And when you are creating a WordPress theme, you have to take utmost care to build up the whole structure for its enhancement. However, it is a challenging but not an impossible task and we are here to tell you in this article, how you can create an amazing WordPress theme or what to look for in a WordPress theme before purchasing one follow the WordPress trends 2022.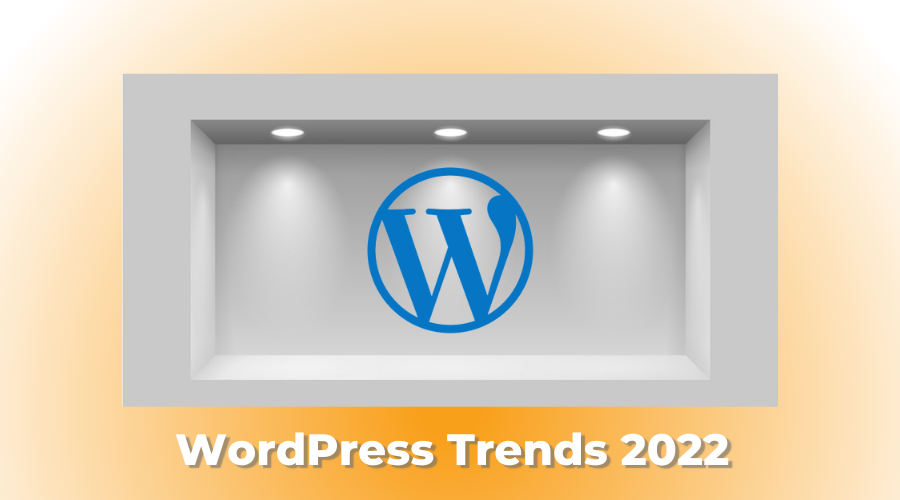 Before getting a WordPress theme, you must look for the trendy options that are going along in the market through which anyone can develop a website effectively. WordPress is the most useful application to reach out to most people at a single time and it also helps us to connect with the customers anytime.
But it is also necessary to create a strong WordPress website to make it more effective and more engaging for the users. Before going into the section of WordPress trends let us look at some reasons why it is necessary to build up an astonishing website to reach the top.
Amazing WordPress Trends 2022 For The Rapid Growth Of Your Business
When we look at the question of why to build an amazing WordPress website, some answers we get like to increase the number of visitors and to increase the sale. But many of the website owners remain confused about how to choose a perfect WordPress theme and why is it necessary to put it into a website to make it more effective and more engaging. We have listed some reasons why to choose a perfect WordPress theme below
Number of visitors increases
Website sale increase
Spread your business to the globe
Reach out to millions of customers at a single time
All these factors are essential to building up a strong website and some trends we have listed below to ease your work if you are searching for the best WordPress theme for your website.
So, Let Us Check Out Some WordPress Trends 2022 That Are In Fashion Today
Voice Search Options
As we are well aware that the technology is taking over everything and to go with the trend, you also have to keep yourself technically maintained to reach out to your customers and target audiences amicably. People today prefer to speak to the device about what they want to search for instead of typing it. We can take the example of Google and Alexa which have enabled their voice searching feature to ease their customer's tasks to some extent.
Keeping this voice search option in a WordPress theme makes the business of searching quite easier for anyone. This is one of the most amazing WordPress trends that you should definitely try for your website to make it more effective and more attractive. This is also one of the most modern features that are trending in the market that is also useful for a website.
WordPress Themes Specially For Ecommerce Websites
This is also one of the most amazing WordPress trends 2022 for the blog templates that are exclusively designed for the eCommerce store owners to make their online business website more stunning. These Best WordPress Themes are specially designed for the eCommerce website so all the tools that are arranged under this trend are too user-friendly that any customer would love operating it. This is also suitable for the blog templates to make them more involving for the users.
Ecommerce WordPress themes also give clarity to the users what they are looking for and they can improve their searching and shopping. As customers are not given the option to look for a product physically, it is necessary to build such a system where they can look out for a brief description of the product that they are going to purchase for clarity. This is one of the latest WordPress trends that is going on in the market.
Virtual Reality Options For The Extra Knowledge
Another perfect option for the customers to go for while selecting any product for themselves. Virtual reality gives all the users the best view of the product that they want to purchase as these tools let you decide whether this product will suit them or not. To see this, there is an example of lenskart where they use this amazing tool to make their website quite useful for the users. Instead of going to the shop and trying some cool lenses, this theme lets you decide whether this frame will suit you or not through the virtual reality feature. Indeed one of the best WordPress trends 2022 to look for while creating any website.
Chat Section
This feature is the most important thing to put into any website if you want to connect with your visitors and customers. This chatbot feature lets you join the social group through which you get to know the feedback and other related things about your services and business from the customers. This amazing tool always makes you feel connected with all the users that are experiencing a thrill visiting your website. This is surely one of the best WordPress trends for the blog templates to make them more engaging.
Another advantage of having this feature on your website is that this always lets you know if something is going wrong or something needs to be corrected about the services that you are providing in an effective way. All these things make this a must feature for all the websites.
Improving The Overall Accessibility
Improving the overall accessibility is also necessary as this is also one of the latest WordPress trends. To keep up the customers engaged with the website for a long time. With the increased accessibility, all the tools start working at a great speed giving all the visitors the best experience of visiting a website. Always check for this feature for the overall development of a website to make it more engaging and to increase the rank on google.
It has been noticed many times that people do not tend to spend too much time on a single website. If it is running slow or taking too much time loading the content. So, it is quite essential to improve the overall accessibility to improve the running performance. This is indeed one of the best WordPress trends 2022 that people are following. For their blog posts templates to create a beautiful website.
WordPress Themes For Multipurpose Use
Nowadays, this trend is going all over the internet market for creating WordPress themes. Everyone is trying their hand on different markets of different niches. To gain more customers and ultimately to stretch the business.
Hence, putting a multipurpose theme is necessary if you don't want to stick to the same business every time. A multipurpose WordPress theme always benefits the website owner. To go for any kind of business through a single WordPress theme. Thus it is one of the best WordPress trends through which you can create a wonderful website.
Drag And Drop Features
The drag and drop feature is amazing to work done to ease the business of handling WordPress websites. This is really the trend that is active today and is very popular among many youths. Who are looking forward to building their websites with a strong impact. Getting this feature installed on any website would ease the workload of any website. Owned by providing all the easy-to-use services. This is indeed one of the best WordPress trends 2022 that you can look at. If you are getting a WordPress theme to modify your website.
SEO Friendly Themes To Rank On Google
One of the most beneficial features that you can look for while getting the right product. Is that would help you in increasing the rank of your website on Google. The high your rank would be, the more you will get views on your website. To rank one on google means that your website must be visible to millions of internet users across the globe. Hence, building a complete SEO-friendly WordPress theme would benefit you in reaching your services. To millions of internet users at the same time.
This is one of the best WordPress trends. That you should look for before getting a theme or developing a theme. High-quality WordPress themes are also on the trending policy of getting a quality website.
Parallax Effect Feature
There may be other different effects that are popular while building a WordPress theme. But this parallax effect is one of the best WordPress trends 2022. That is also becoming popular tools among website developers nowadays. This is quite enthralling to see such effects in a website for a user. Another reason to put such effects in a WordPress Premium Themes is that it looks quite sophisticated and catches. The attention of the target audience easier effectively. This is going to be the best feature for the blog post templates to make them. Even more engaging and attractive for the users.
Video Section To Improve The Quality Of A Website
A Video section is put on a website to make a blog template more informative and more interactive. A video when put on a website gives more clear information and the reader can grab the information. By reading the content or by watching that informative video thus in this way. The information that the reader wanted to get gets doubled and the chances of getting back that viewer get high.
But is also a noticeable factor that the video section. Should not look dull and always vibrant colors are used in that section to make it look stunning. This is indeed one of the best WordPress trends that is ruling on the internet today.
Wrapping Up

Getting a nice WordPress theme is quite essential for the effective development of a website and before selecting any product. Always check out these WordPress trends 2022 that would surely help you in achieving your favorite website through east ways. Although the old tools are in use but getting these latest tools. That are trending for the blog post templates are increasing and getting prominent among the website developers.
Looking for a great WP Theme Bundle at an affordable price? Look no further! Here at Themeshopy, We have a range of amazing WP themes that are perfect for any business or personal website. We're offering an amazing discount on our bundle this week only – so don't miss out!