Do you know that you have only eight seconds to impress your visitors and sell your services? Yup!!! You heard that right. This means that you cannot beat around the bush just at the beginning of your about us page. You need to focus on engaging your audience in this very short span of time and the best way to do this is to make bold statements that grab their attention and show your best face in front of them using the About Us page. In this blog, you will later learn how to write a powerful about us page.
Why Does Your Website Or Blog Need An About Us Page?
When it comes to building customer relations, the About Us page is very crucial. Imagine how it would be if you straight away start marketing your products (in the case of business websites) or start with your blog without letting people know who you are? What is your area of expertise and what makes you unique? Do you think people are going to trust you without knowing anything? Obviously not!!! For this, you need an About Us page that shows about your USPs and the things that make you unique. It helps you to establish your brand image and solidifies it.
With a great About Us page, you have a good chance of grabbing attention by stating what are the services you are offering and what are things that make you better and distinct. But if you feel that writing a powerful About Us page is daunting then let me tell you that it is not. With the right information, you can effortlessly design and write a powerful About Us page by yourself without paying huge sums of money to any content writer or copywriter.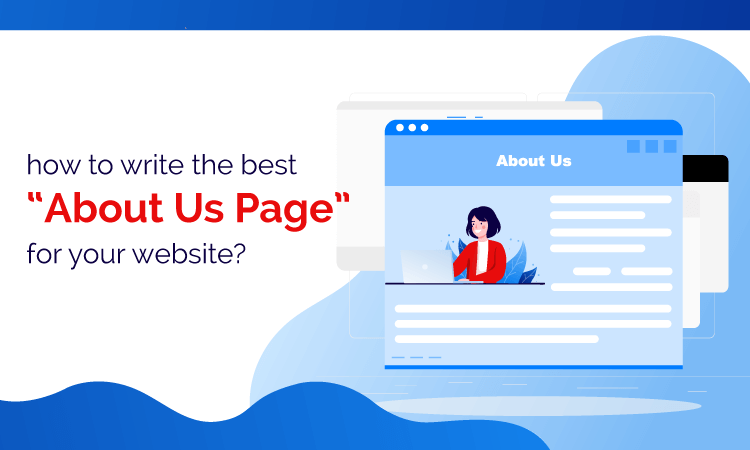 Writing An About Us Page? Follow These Tips:
The following tips will definitely help you for writing an appealing About Us page.
Make The Page Easily Accessible
What is the use of writing a powerful About Us page for your WordPress blog if your audience is unable to find it? So the very first step is to make sure that your page is easily accessible to your target audience because if you want your audience to read it, first you need them to find it. For making it easily accessible, you should place it in the top navigation bar and make sure that it is clearly named.
Share The Best Info And Make It Convincing
As most of the visitors can clearly make a guess what your About Us page has to convey but your sole focus should not be the info regarding you. It should also convey why your blog is beneficial to the audience and what they can gain from it. For this, you can either follow the conventional approach where the page content starts with your biodata or you can straightaway mention the things that users may expect from your blog.
Do Not Forget To Add Images
Pictures and images are the best way to connect with people. So, in order to enhance the familiarity, your About Us page should include pictures. It will build more trust.
Never Brag
Remember that you are writing a blog and not a memoir. So try to include things about yourself but you should not get carried away. You can share who you are, what you do and a little stuff about you that you think, will be useful to connect your audience with you. Do not exceed the limit as it would look as if you are bragging. Keep in mind that you need to focus on providing information related to the blog.
Tell Your Achievements
Achievements are not defined by medallions and prices. Apart from receiving any awards for your blog, If any eminent personality has subscribed to your blog then also it is an achievement. You should include this in your blog as it will help a favorable air for your blog.
Show Your Quality Work To The Audience
When you introduce yourself and your work, the audience does get an idea of what you exactly have to offer and how helpful will your blog be. But you can utilize this space for creating a positive impression on your readers by showing your best work. In this way, they get to know about your quality work and this will also result in an increase in the number of followers and subscribers.
Don't Include Advertisements
Including affiliate links, affiliate marketing or any kind of advertisements on this page will project you in a negative manner. As you are dealing with an About US page, the visitors of your page know about you. Write a powerful about us page and be smart enough and focus on branding yourself in a smarter way.
Be Interactive
Interaction plays an important role as it is the direct connecting link between you and your audience. So try to include an email subscription form or a contact form at the end of your page. Do not forget to include your email id. The reason for doing this is your audience must find a way that will help them to ask their queries and questions directly to you.
Creating a blog is easy now with our splendid premium WordPress blog theme. Try it yourself!
Looking for a new WordPress theme? Check out our latest WP theme bundle! It includes all themes for a fraction of the price. You get free updates and support.
Check out our WordPress premium themes, which include the latest themes for just $99. This WP theme is perfect for small businesses, bloggers, and anyone who wants to give their website a fresh look. View the themes and purchase the themes today.